Call Us :

+971 6 5757 420
INTER GLOBE - Electronic Locking system
Hotek Hospitality Group provides safety- and comfort products for every segment of the hotel industry.
A traditional hotel room door lock, converted to the lock of the future. That is what the Hotek 2900 CLASSIC RFID is. Quality and safety have been paramount in the development of this robust lock.The Hotek 2900 CLASSIC RFID is thus equipped with a built-in alarm, which is activated when the door is not properly closed.A feeling of safety for your guests and of great convenience to housekeeping.
In accordance with ISO-14443A/B standards.
Lock without a cable, current using 4 x standard AA batteries incl. low battery voltage alarm.
Longevity of batteries minimum 2-3 years.
Emergency cylinder and mechanical key to open the door in case of emergency.
Electronic mortise, with anti-panic function and dead bolt lock.
The lock draws the attention of the guest with a subtle alarm if the door is not properly closed.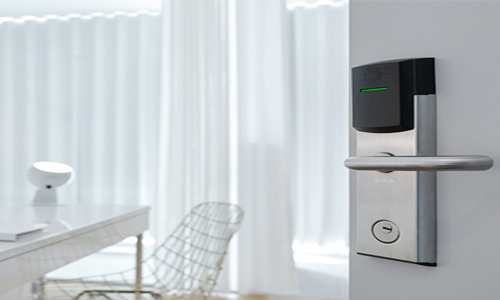 Once the lock is bolted on the inside by the guest, it is visible through the red glowing LED (privacy function).
Optionally available with wall readers for control of electric doors and/or locks.
Optionally available with intelligent energy control units for switching current in the hotel room.
Electronic Digital Locks
CE Marked Mortice Lockcase
Battery operated
Pass Code protected (can be changeable)
Over ride keys
Low Battery alarm with Red Light Flash indicator
Finish: SSS, CP, PB